I'm sure your familiar with the beauty boxes I have illustrated above. Since Glossy Box launched their first box earlier this year, other companies have decided to launch their own. I have decided to compare and review 5 different 'samples boxes' from October. Hopefully this will help you decided which beauty box is best for you. Oh, you might want to put the kettle on & get comfy - it's a long one!
Contents:

Dermalogica Thermafoliant, Dermalogica lip complex, Dermalogica Recovery mask, Stila Smudge proof stick, Leighton Denny Nail Varnish, 3x Robert Piguet fragrance samples
First Impressions:

Three products from the same brand? I thought this would be a no go, until I tested out the products. They were all amazing & I need more Dermalogica in my life! I think with the fragrance sample, not a lot of people appreciate them. As you get them for free from department stores and in magazines. Full Size products always go down really well, and in October's Glossy Box they were the Leighton Denny Nail varnish (£11) and the Stila eyeliner (£13). To me, Glossy Box
seems to be aimed quite a lot at beauty bloggers.
Price: £12.95 P&P included
Packaging:

I think the packaging is very girly and nicely presented. But it also leaves a lot of wastage.
Best For:

Beauty Bloggers
Contents: Tigi Catwalk Sleek Mystique Mystique Straight Collection Blow Out Balm (Full Size), ORLY 'Mani Minis' Nail Lacquer, Bliss Fabulous Foaming Face Wash, Crabtree & Evelyn India Hicks Island Living Spider Lily Hand Therapy, Caudalíe Vinexpert Radiance Day Fluid, Burberry Body EDP Fragrance Sample
First Impressions:
That's a lot of generously sized products! The brands in this box are all quite high end. So this would be quite a nice box if you never buy high end products. Again, this box came with a perfume sample as an added extra. The thing I like about this box is that if you enjoy any of the products you receive, you can save 10% at Feel Unique.
Price:
£9.95(in
cluding P&P) & there is a special offer if you purchase a 12 month
subscription
Packaging:
This looks a lot sleeker and more grown up then the other boxes. It comes in a slide out draw, and has a black & hot pink colour theme throughout.
Best for:
Beauty Junkies and reliability
Carmine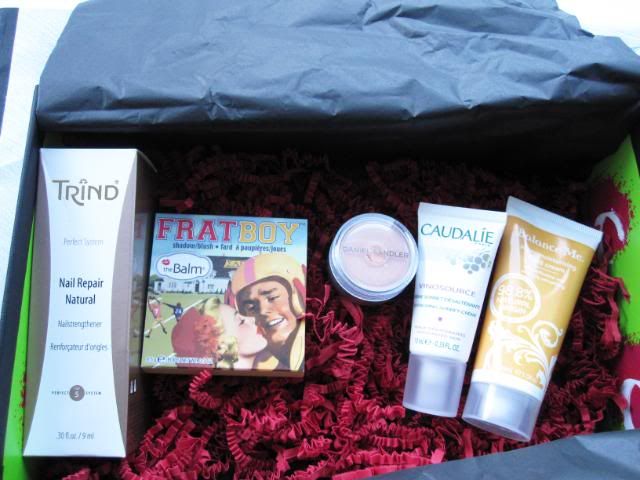 image courtesy of Evelyn at We Were Raised By Wolves



Contents

:

Trind Nail Repair in Natural (Full Size)

,

The Balm All in One Shadow/Blush in Fratboy (Full Size)

,

Balance Me Super Moisturising Hand Cream

,

Caudalie Quenching Sorbet Creme

,

Daniel Sandler Eye Delight in Peach (Full Size)




First Impressions

:

Three full sized beauty products! The range of products is really nice too; there's make up, skincare and a nail product. Carmine also advertise the fact you can order a box for one of your friends, what a good idea!




Packaging

:

Although it's nice the box isn't pink & black like most of the others, I'm not sure about the lime green packaging.


Price

:

£12.75


Best for

:

Full size products






Boudior Prive





Image courtesy of Lottie at Mushaboom


Contents

:

Cetuem Illuminating Mask & Creme de Lite, Korres Quince Body Butter, Leonor Greyl Huile de Palme, Memo Paris Les Echappees, Rose & Co Rose Petal Salve(Full Size), Studio Makeup Liner Style Pen Black(Full Size)




First Impressions

: There is definately a luxurious feel to Boudoir prive. The box contain's expensive brands, that you may not have heard of. I think this box would appeal to the public more then beauty bloggers.
Packaging: Similar colour scheme to Glossy Box, however does have a more 'grown up' look to it.
Price: £12.95 (including P&P)


Best For

: Little bit of luxury each month
image courtesy of Phoebe at Peluxe


First Impressions

: With this box you really do receive samples. It's a great try before you buy concept. If your a bit wary of trying a beauty box, this is a great one to start with. The best thing about it is that you choose the three samples you want in your box. They also have themed boxes and luxury sample boxes from £4.95.


Packaging

: Simplistic, which I quite like as it means less waste!


Price

: £1 paid via text message


Best Fo

r: a beauty bargain




This post isn't sponsored and I am not affiliated with any of the companies above. I wrote this post because there are lots of beauty boxes out there & it's difficult to know which one to go with! I hope you have enjoyed reading this and found the post helpful. Which one is your favourite? Have I missed a box out?