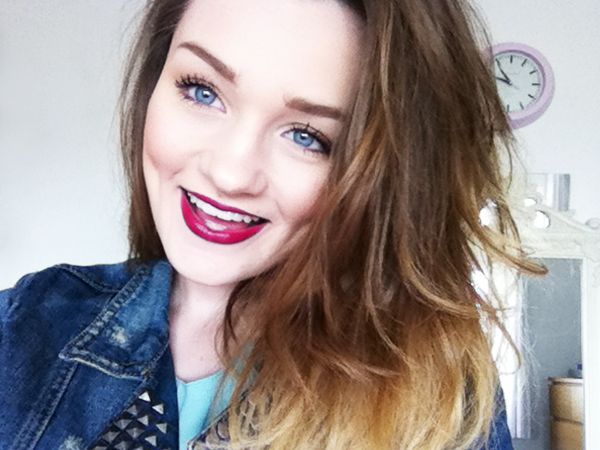 I've been stalking following Laura's blog for nearly a year now and it's quickly become one of my favourites. If you've not come across Tiny Twisst before - cue serious hair envy. Keep reading to find out Laura's go to make up products and her most memorable fashion faux pas....
What's the story behind your blog name?
Tiny is beca
use of a few minor
things, mainly because the word tiny
always reminds me of the first day I started School - it's a long
story, so we won't go into that.
When I first started my blog I loved the band Metric and their song
The Twist - so that explains the 'twist' part, I added an extra 'S'
because I'm a Graphic Designer and we like our text to look nice - I
thought two S's together would look better. Hey-presto!
What's your daily makeup routine?
My daily makeup routine is really simple, I'm usually in a rush so
it's quick and easy. A light layer of foundation and powder, a brush
of mascara and a rose blusher. I do like to wear a stronger brow with
a simple look though - it feels more finished off that way. Sometimes
if I have more time I'll either add some winged eyeliner or some brown
matte shadow in my crease.
Do you have a favourite clothing brand?
I love all clothing brands and shops - I think that definitely comes
with being an extreme shopaholic. I guess my all time favourite shop
is H&M because I know I can always find something to buy. I also like
Topshop (for the MOM jeans!) Miss Selfridge (for their pretty summer
girly pieces) and online brands such as Missguided, Lavish Alice and
Mina UK - you can really find some unique pieces for great prices
online, which I love.
Most memorable fashion faux-pas
SO MANY. I remember at school I had these little twist-clips with
diamonds on the top - they would twist into your hair and make it look
like you had random floating diamonds in your hair, I thought I was
cool. I also used to have a denim-phobia and would always wear baggy
tracksuit bottoms (sometimes the velvet ones) - it was acceptable in
the 90's though, honest.
Do you have a favourite beauty brand?
My favourite higher-end would have to be MAC, I like a random splurge
now and then.
My favourite drugstore brand is a little more tricky because I love to
experiment with new brands, especially when they're more affordable.
I'd say Sleek for their blushes and Maybelline for their 24hour
lip-colours (they are amazing!)
Three blogs we should be reading?
My list of blogs is endless, it takes me hours to read through them
all. I'd say my current most loved are; Be Frassy (befrassy.com), She
Wears Fashion (shewearsfashion.com) and Love Blair (loveblair.com)
BIG thank you to Laura for answering my questions, check out her brilliant blog Tiny Twisst here.
If you are interested in being interviewed for next months Blogger spotlight feature, please email me -kiasimpson@hotmail.com :)